This year there has been only 2 members of the Sunshine Coast Dojo go for the Scholarship; myself and Sami. This year the recipient will have 2 weeks of intensive training in Canada during July leading up to Soke Cup 2019. There are so many amazing opportunities that will be had and an extended knowledge that will be brought back into the dojo once they return to Australia. Away from the usual training face to face with Soke Sensei, one of us will have the opportunity to train with one of the the top instructors in Canada, either Robert Lee Sensei (7th Dan, Kyoshi) or Chris Taneda Sensei (7th Dan, Kyoshi).
There are many criteria that had to be considered to be eligible for the scholarship. Had to be a senior brown or black belt in the dojo, participate in the 2 week intensive and also document the mental and physical take aways from the intensive. That is only scraping the ice, other things would be the students training attitude, ability to share their knowledge, how well they conveyed their training journey through these blog posts, being respectful to everybody in and around the dojo, have set goals which they are hungry to achieve, being both mentally and physically strong, and so much more. These past two weeks it hasn't just been Sam and I during this intensive, also Bailey, Savannah and Will shared the experience and grew with us. Couldn't have asked for a better team!
Savannah, Sami, Myself and Bailey. William had to leave early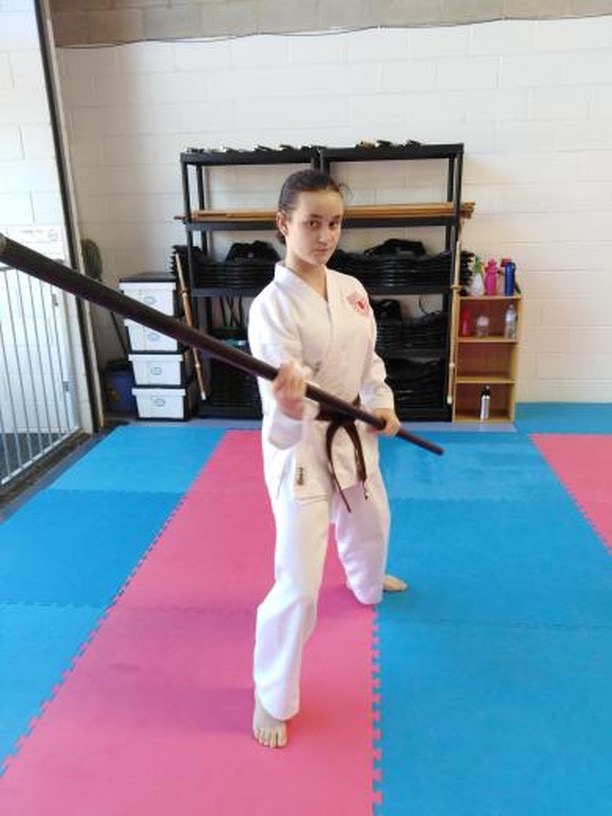 Sami is a machine! Not once did she complain of her sore muscles or complain that she was thirsty, she just continued to push and give it her best which raised everyone else's energy around her. You can not fault Sam's training attitude, it grew stronger throughout the intensive as she attended EVERY class and went above and beyond every session. She loved expanding her knowledge and finding new ways to learn old concepts to help improve. Keep up the amazing work!
Not only was it Sam growing everybody's energy, everybody contributed and reached peak fatigue some point throughout the intensive, as a group we helped each other push through and it was more than rewarding! I have seen a lot of personal growth not only in my technique but in my spirit as well. It wasn't a massive jump but it definitely pushed me closer to my goals and I'm excited to continue this growth.
As I am heading towards Shodan I know that this experience will help me as I know there has been times throughout this week I wanted to give up, but I didn't, and now I know that I can! I found that it was the little improvements that made the biggest impact on my technique. One of the biggest tips was just keeping my eyes up. Once your eyes are up, your posture opens and your shoulders go back, it has many benefits.
In class today we were throwing our partner only using our body, I found it impossible until I got reminded to keep my eyes up and it helped me out immediately. I have expanded my mind, grown physically and mentally, and had to dig deep throughout the two weeks when I hit peak fatigue to just keep going.
This year I have focused my life towards Soke Cup, I have re selected my university timetable to attend all of the required squad sessions, cut back my work hours and scheduled up until late July so that I can devote myself entirely to karate. For everybody that has and will train along side me this year, thank you for pushing me to be the best version of myself. Also a massive thank you to both Sensei Sandra and Sensei Martin, they both continued to push me and believed in me when I began to doubt myself. I really believe we have the best community of people at our dojo.
A short recap of the last two weeks, I have learnt so much I will have to condense it all to help me put it into practice now. My biggest take away wasn't about technique but about the dojo spirit, I found that to learn, I didn't have to go to a senior student because everybody has a different way of looking at things.
Both Sam and I are good candidates for the scholarship and congratulations to everybody for their efforts. Now for a well earned rest after beach training in the morning!