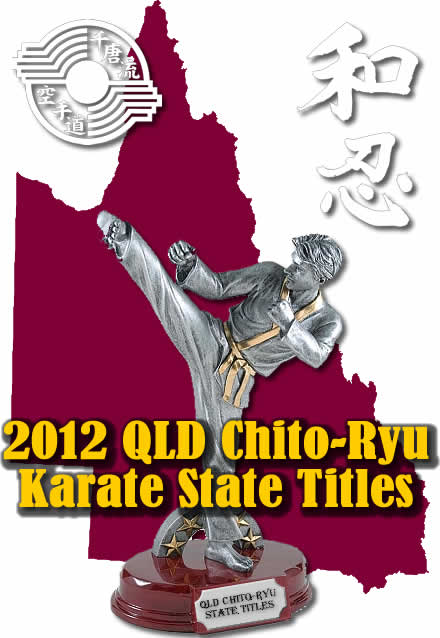 Congratulations to all members who competed at the 2012 QLD Chito-Ryu State Titles over the weekend (Sunday 20th May).  It is great to see the standard of competition continuing to rise to even higher levels yet again.
As always a huge thank you to all of the referees, officials and volunteers who gave up their time to help make the event possible.  Also a big thank you to competitors and supporters too.
This year, the tournament champions in all categories went to Gold Coast competitors:
Little Champion Tournament Champion – Ray Winson
Junior Tournament Champion – Cheyenne Ferguson
Senior Tournament Champion – Anthony Horgan
Full results available here: 2012 QLD State Titles Results (PDF)
And the top 3 in QLD tournament circuit season rankings are:
Jodie Marriott – Sunshine Coast (49 points)
Raphael Borleis – Sunshine Coast (48 points)
Ray Winson – Gold Coast (45 points)
Full rankings table available here: 2012 QLD Season Rankings – Rd 3 (PDF)
Next tournament will be the Gold Coast Cup, Sunday 17 June 2012.  Forms will be available soon from the dojo.  Double points will be awarded for this tournament towards season rankings.