Entries are now open for the 2016 QLD Chito-Ryu Karate-Do State Titles.  This year, the event will be held on the Sunshine Coast and is open to all Chito-Ryu students.
When:  Sunday, 11th September 2016
Where:  Kuluin State School (Sunshine Coast)
Entry Form:  Available from your dojo instructor, or download the entry form (PDF)
Entries Close:  Friday, 2nd September 2016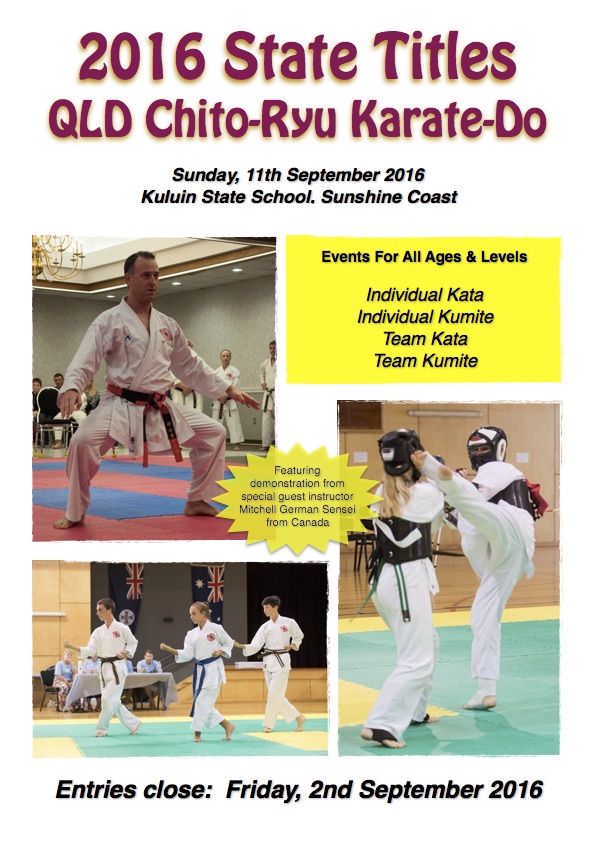 This year, we are very pleased to have with us as a special guest, Mitchell German Sensei (6th Dan, Renshi) from Halifax, Canada.  German Sensei will be guest instructor at Gold Coast and Sunshine Coast dojos either side of the tournament.  In addition, we will also be running a seminar for all Chito-Ryu members to attend on the Saturday prior to the tournament.
Sunshine Coast Seminar with Mitchell German Sensei.
When: Saturday, 10th September 2016
Where:  Sunshine Coast Karate, Maroochydore dojo
Cost:  $20 per person
German Sensei is one of the most senior ranked practitioners of the International Chito-Ryu Karate-Do Federation outside of Japan and has had a very successful tournament career for many years, both as a competitor and a coach for many years, both in Chito-Ryu and in the WKF.
Here's a short biography of German Sensei's achievements in the dojo.
Practicing Chito Ryu karate for over 35 years

Chief Instructor Halifax Ryuseikan since 2005

6th degree black belt and the rank of Renshi

Former WKF Canadian National Kumite Champion (-80 kg) and Canadian National Team member (1998-2001)

6 time Chito-ryu Soke cup world champion: 3 time Kumite (1995, 2010, 2013), 1 time team kumite (2013), 1 time Henshuho competition (1995), 1 time kata (2013)

Current Soke Cup Champion

Kakedemeshi (Chito-ryu) kumite champion (2008)

Nova Scotia Karate Team (WKF) head coach 2001 – present

Canada National Team Coach (WKF) 2002-2008

3 time Karate Canada Coach of the Year
As you can see, he's lead quite an impressive karate career so far, so I'm sure that there will be lots to learn, so be sure to block away those dates, 10-16 September.