It's been a big year for our competitors so far.  Just last month, we've run our first ever Queensland State Titles, the Queensland Team has now been selected a and are starting preparations on the road to the National Titles to be held later in the year in Sydney.  And now we're preparing for our final Sunshine Coast tournament of the competition season, the 2012 Sunshine Coast Chito-Ryu Karate Friendship Tournament.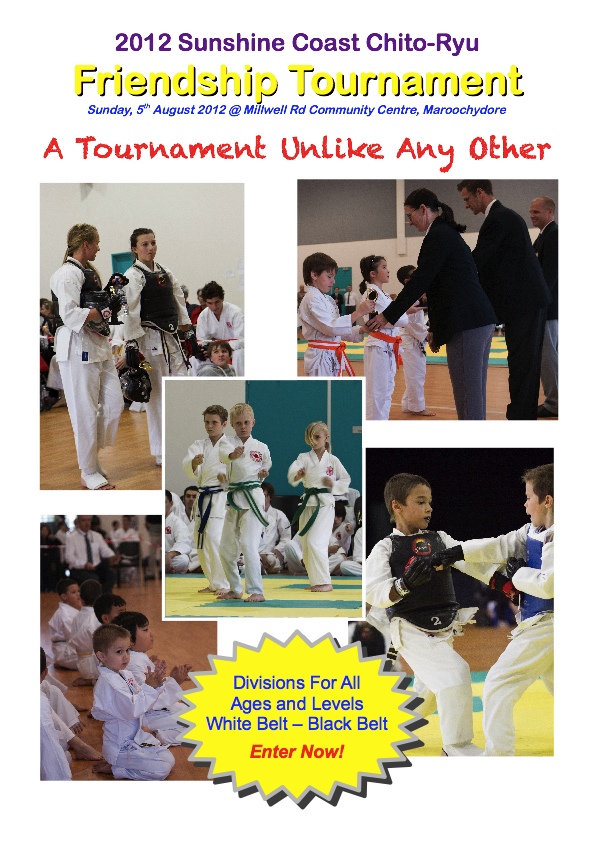 The Friendship Tournament will be unlike any other tournament we've ever run.  There are a few important changes in the rules that will help level the playing field and make it a lot more interesting.  In order to enter, all competitors MUST be part of a kata team; no team, no entry into individual events.  Also, in all kata divisions, competitors will not find out which kata they have to do until they step into the ring.  So rather than just practicing 1 or 2 kata, all competitors will have to work hard on everything just in case….
For more information about the Friendship please download this important information, which explains everything in details.  About the friendship tournament (PDF).
Entry forms are available from the dojo of download here:  2012  Friendship Tournament – Entry Form (PDF).