It's been a big year already and there is so much more coming up.  And one of the big events of the year is the National Chito-Ryu Karate Championships.  This year, the event will be on the Gold Coast for the first time ever and it's going to be a big one!
Being so close to home, we want to make sure that we are well represented with a strong team from the Sunshine Coast.  For the last 4 years Sunshine Coast dojo has won the team kata perpetual trophy, Qld won the team kumite trophy last year (with members from Sunshine Coast & Gold Coast dojos on the team), and last year the tournament Champion was Sunshine Coast's own Sensei Sandra.
But tournaments are not just about who wins, most importantly they are about stretching yourself and growing yourself to be the best you can be.  You won't win everytime, and things don't always go to plan, but tournaments are always a great way to test your skills and to learn about how you respond under pressure.  That's why we still have a few more local beginner tournaments before the nationals later in the year.  We want to give you an opportunity to put your skills to the test and earn your place on the Sunshine Coast team to go to the nationals.
Coming up next month – Satruday, 13th August, we have Round 5 of the Qld Chito-Ryu tournament circuit.  This is a beginner tournament open to all members of all ages and levels.  If you've never competed before, this is the perfect event for you, it'll be a great way to get started and see what all the fuss is about.
Get your entry form for the upcoming Sunshine Coast Beginner tournament.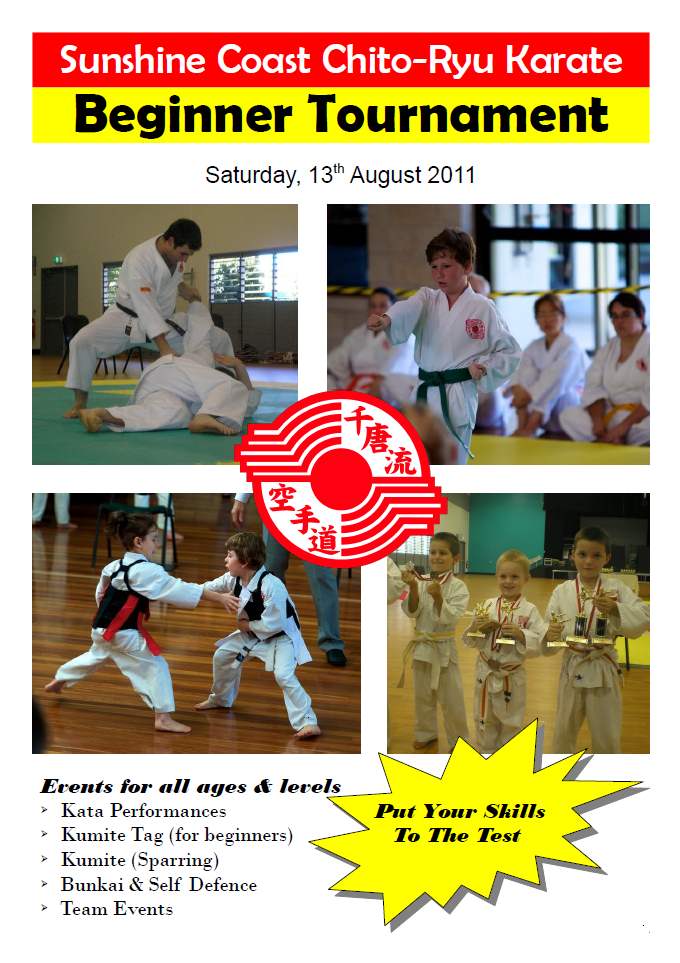 If you've been to a few tournaments this year already, then I bet you want to learn more about the results and the season rankings from round 4 held on the Gold Coast last month.  So, here they are:
If you're planning on coming to the next Sunshine Coast Beginner Tournament, please write