This weekend, we still had a training session each day, Saturday morning session was just more of a stretching and talking about that things we are learning. After that we had some breakfast, Sam and Sandra then had to take me to a chemist to find something to help with my eye. As it was the worst it had ever been Friday night and Saturday morning, had a lot of pain and more swelling, pretty much hurt so much I had to hold my eye closed for hours at a time. We got some drops which I was hoping would work, otherwise we were told to get me to the hospital first thing Monday morning which I was very scared about. We got back by 11am where we met Helen who had just arrived at the Sohonbu.
Sam, Helen and I went out adventuring no real plan mainly have a look at the castle and at a few shops. We were about 15 minutes away practically stepping on the bus, when we realised that we had the key to lock up the Sohonbu, therefore Sandra and the kids couldn't leave. We then had to walk all that way back to return the key.  Had a quick shirt change and headed out again.  We tried catching a train which went wrong as we ended up waiting for the wrong train and had missed ours.  We went across the street and waited for the bus to take us to the city centre. We eventually got there 2 hours later to when we first left to Sohonbu.
Walking over to the Kumamoto Castle, areas were taped off and looked like there was no entry, when we asked a staff member he then pointed to the map and pretty much the whole castle was closed off. Quite disappointed, I was really looking forward to seeing it and looking through it.  I then remembered that the Suzenji Gardens wasn't far away and we decided we would get some food, then catch the tram there.
Public transport over here is very easy I you know what busses to take, trains and trams are easy, buses you need to know which one and where it takes you. Also, defiantly must have exact change as they don't give you change back. There is a change machine on the trams trains, and buses which is very handy.  You put in 100 yen 50 yen coins and it gives you 10 yen coins.  Most of the time ive been paying 150-170 yen per ride which isn't much probably around $2.00 or so depending on how far you are going.
We got off the Tram at stop for the Suzenji Gardens, number 18 I think it was.  From there it's about a five-minute walk and we were at the entrance.  There was a 500yen entry fee and they gave you a map and a fancy little ticket.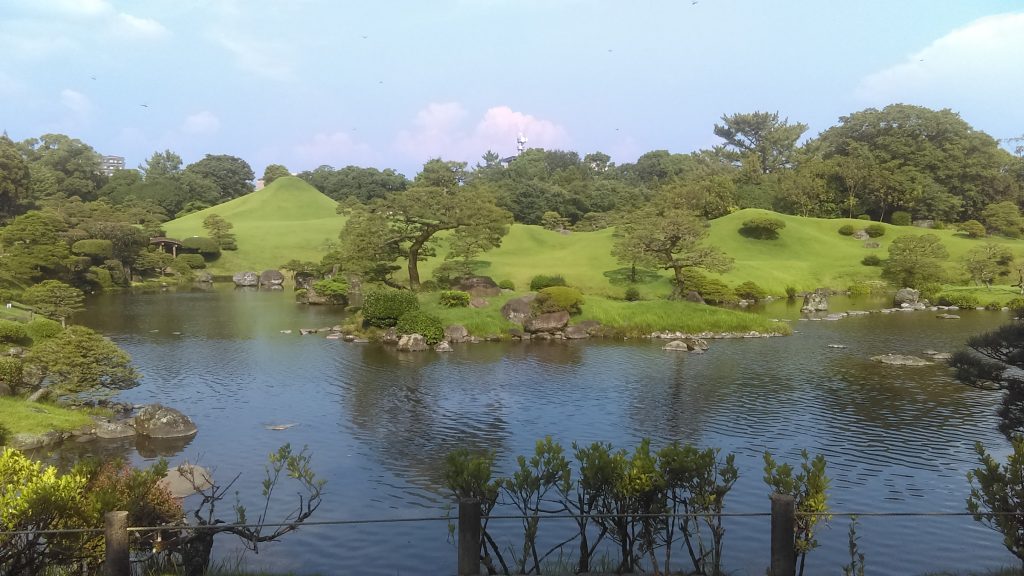 It was absolutely beautiful, so green and hilly, lovely shaped trees had a very instant relaxing, peaceful feel to it, I was instantly happy to be there. Sam, Helen and I were there for a few hours looking around taking photos and enjoying the scenery.  It was in the late afternoon by the time we got there so it was very quiet, not many other people around which was good, we could enjoy it more.  We left around 5:00pm as far as I can remember.  Did a bit of food shopping and headed home.
Where we had a shower, and got ready to go out for dinner. We decided on a Korean BBQ.  I'm not sure of the name, but was just 5-minute walk from the Sohonbu, practically at the end of the street. We sat at a kotatsu, a small table where we sat in seiza, and many other positions as it was actually very uncomfortable where I thought it would be fun and different, definitely going to choose a normal table next time. Haha, my bad.
That was just Saturday such a big day, we went on a little detour walk on the way back.  Sam and I sat down and watched a movie where we both kept nudging each other to stay awake.  Haha, bed time!
Finally a sleep in well kind of… I still woke up at 6am! Haha, nope go back to sleep!  I woke up properly at 8am.  Yeah that's better, had a nice relaxing morning. Found out we had Kobodu training 2-4pm so wasn't much time for too much adventuring. Was contemplating on staying home and watching movies until training. But when I'm in another country, I like to use all my energy and force myself out to enjoy it and see it as much as I can while I'm there.
Sam seemed as though he wasn't going anywhere, Helen was just going to pop out for some groceries and Sandra and the Kids weren't going out either. I was just about to sit down and stay as well as I was scared of going out in Japan by myself alone.  I decided against it, I'm an adult I can take care of myself. Got sun screen definitely need sun screen had and glasses, shoes and went out.
I was planning on adventuring the left side of the park as we always go to the right, was only like 5 minutes and it ended, well that's boring, but I kept walking up to the road and onwards, didn't look like there was much ahead but I just wanted to get out, kept walking then I noticed that the big net was quite close. The big net that I was told was a golf driving range, I'm not a big fan of golf but the big net with huge red poles just looked so interesting and I wanted to go since I first saw it upon arriving in Kumamoto. I just wanted to go there, just to be there, very random I know.
Any how I came to a T-intersection with the big net right up on the hill in the middle.  Damn, where do I go now.  I knew one path would take me there and the other wouldn't I chose to go right, I thought that looked more promising.  Hahahah WRONG!!!!!!!!!! Had to walk all the way back about 10 minutes.  Got to the T- intersection.  I tried looking up kumamoto golf range, the big net didn't come up. Well looks like google maps won't be helping me get there, it's all up to me.
As I kept going I got more and more scared I would get lost and wouldn't make it back in time to get picked up for training, but I wanted to keep going.  I took the left path which I should of originally taken. Kept following and following the road was very narrow and had to keep stopping to let cars past, got very creepy all by myself, people giving me weird looks.  Surrounded by old houses, some looked clean and respectable others looked like a lot of trouble.  God I hope I don't get taken, that wouldn't be very nice. I came to an area where I felt as though I could touch the net it was so close, but the road went all zig zaggy up the hill I still didn't know if it would actually take me there.  But I kept on following the path, got to some steps which looked like a cheat way instead of following the windy road.  One more lap got to the top and I saw a sign that said "Kumamoto Golf Range".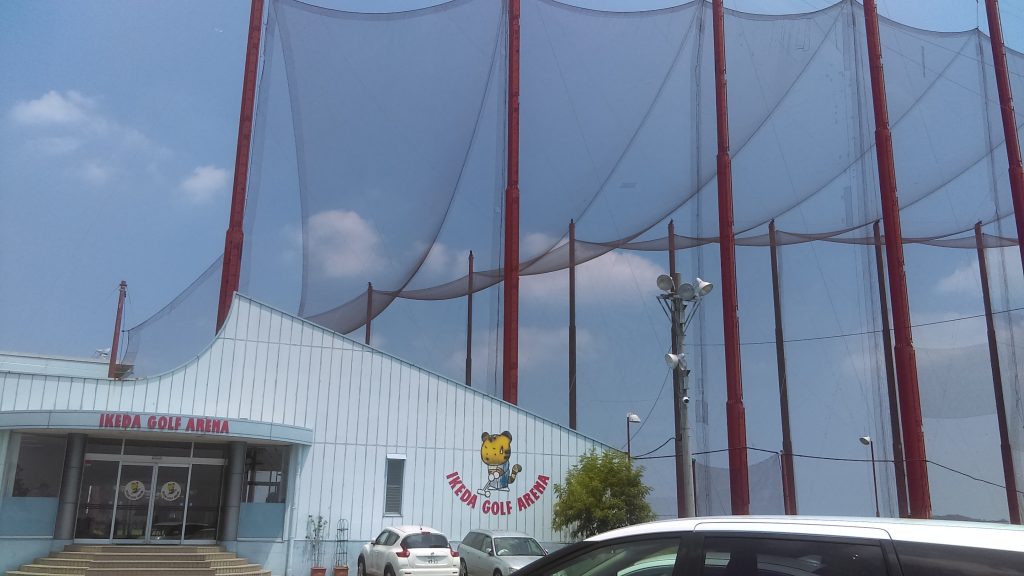 AHHHHHHHHHHHHHH I'm there I actually got so excited that a ran all the way to the entrance.  Mainly because I got myself there all by myself.   Usually I don't really go out without a friend so this was quite an adventure for me, I actually felt proud of myself, silly I know.
Next problem how do I ask to hit some balls. Went up to the counter talking for about 10 minutes.  No one had a clue what I was trying to say, they sat me down at a table and served my ice coffee, I don't like ice coffee.  But after that hike, just getting into Aircon!!!! And very much enjoyed it, was like water to a person who had been in the dessert for months.
A man came up who could speak some English, found out he actually lived in Brisbane for 5 years and just came home, so we chatted about that for a bit, I told him I just wanna shoot 50 balls for 600yen he sorted that out for me and they lent me some golf clubs for free I still think they done that cause they felt sorry for me. Also gave me the iced coffee for free, god I felt like a rich billionaire they were all so lovely and nice.
I finished my drink grabbed the clubs, went outside, they gave me a spot on the second floor, whoop whoop. I started hitting some balls only had a little bit of knowledge back from playing golf at school.
It was automated where the ball rolls out and the t pops up from the ground haha very very entertaining.  Every ball that came out I sat and watched it roll out and pop up.  It was all new to me. I hit some pretty good shots, I got a few to the 150m area most was at the 100m though still alright.  I do think that being on the top gave me more distance advantage.  Still it felt good getting those shots in.
As I was alone and wanted a photo, I went up and asked this elderly man that helped me get the balls from the machine earlier to take a photo of me.  I was waiting for him to sit down as I didn't want to interrupt his practise.
All 50 balls were gone time to head back down, I sat there for a moment though.  This was another happy time where I felt completely relaxed and happy, nothing on my mind.
Time to head back to eat and rest before training.  It was only a 20 minute walk if you don't get lost the first time hahha. Had some food and laid on my bed to shut my eyes for about half an hour then time to get ready for Kobudo. I mentioned in an earlier post so ill skip that part now.
Time for Steven's Birthday dinner party at Miyazaki Sensei's house. We got there and they were all very lovely.  We sat at an kotatsu again, more fiddling around with seating positions. We mainly just had a casual talk about life.  A little bit of karate, mainly our life styles, things we like to do, just normal conversation that you would have with friends.
This was the first proper Japanese home that we've been in so far. Take your shoes off at the front door make sure you don't have stinky feet. They had quite a spread of food, pizza, veggies, sushi, chicken, fruit, wide variety of things I thought I was at a buffet. The food was amazing, also was different for me.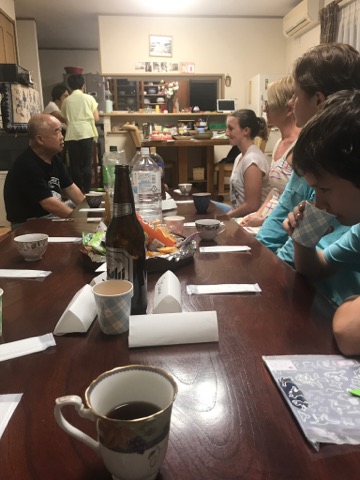 As I was sitting next to Miyazaki Sensai, I was on duty filling his drink.  I was constantly checking his cup to see if it was empty, it was customary to never fill your own drink, others had to do it for you. I was offered some beer, Ashashi I think it was I only had one cup then I went to coke haha, I'm not much of a beer person but I like trying different things.
We were lucky enough to see Miyazaki Sensai's upstairs Dojo while we were there, got a group photo and saw all his grading certificates, too many to count, went back down and talked some more while we enjoyed some cake.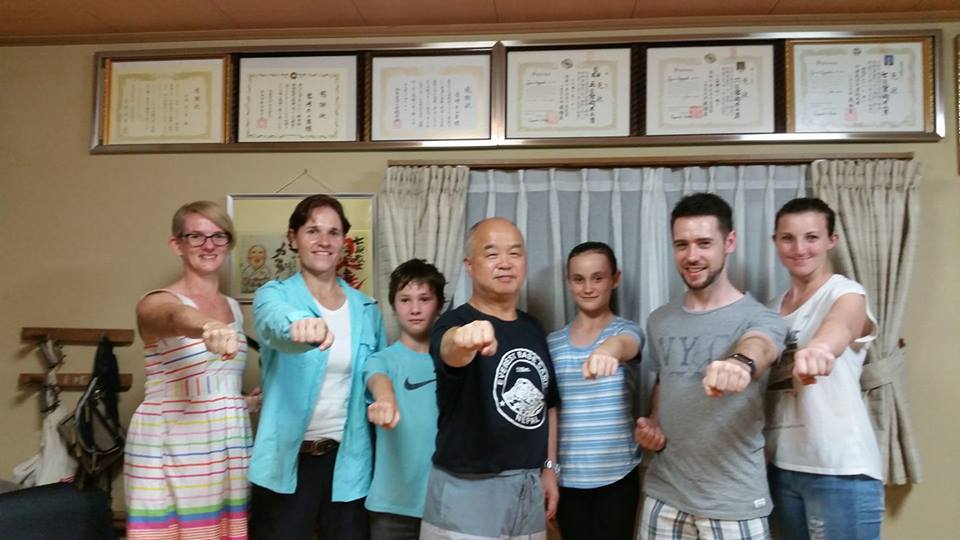 It hit around 10:30pm time to take us home, we pilled into the cars and they were kind enough to drive us all the way back to the Sohonbu.
As soon as my head hit the pillow I was out cold haha.  That's just our first weekend here gosh, wonder what next weekend will be like.